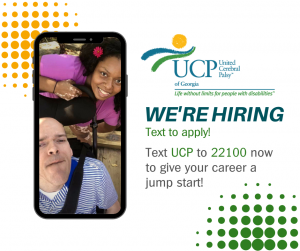 UCP of Georgia has a new Text To Apply service for people seeking caregiver jobs in Georgia. By texting UCP to 22100, job seekers can connect and learn more about caregiving careers. Direct Support Professionals (DSPs) can use this service to find a jobs with flexible schedules and competitive benefits. This service is convenient and easy to use. Applicants can Text-To-Apply from any mobile phone. There is no special software to download. Learn more about jobs at UCP while on the go!
DSPs play a big role in the lives of people with IDD. They work directly with people with IDD to support them in community participation. UCP is a great place to work and learn new skills. We offer flexible schedules and great benefits. One benefit is FREE health insurance! With locations all over the state, UCP of Georgia is a local workplace option in many locales.
Explore our website to learn more about us. If you are looking for caregiver jobs in Georgia, visit our career page.